Are you ready to finally paint
figures and portraits?
Hankering to say "Yes, My painting is finished!"?
Whether you are a seasoned artist or have never painted
before, this course could be just the thing to spark your creativity and re-connect you with
your passion and purpose so that you can be:
But here's the tricky thing about painting:
It can seem like an insurmountable task. You don't even know where to start, much less stay consistent and actually FINISH.
It can seem impossible to fit into your schedule.
Maybe you feel that you don't have the time or it is too expensive or messy.
Maybe you've never painted before and finishing a painting is the Mount Everest of goals for you, the one that keeps calling you forward
AND staying relegated to the bottom of the to-do list.
More important things come up. And before you know it, another year has passed and you are still feeling stuck, uninspired and frustrated.
You're still not creating. Your light feels a little less bright and there's a burning inside
Enough with the waiting.
I learned years ago that
painting is medicine.
When I look back on my life I realize that the creative part of me is what helped me to cope with life's challenges. Art was always my retreat "Into myself" when circumstances seemed unbearable or overwhelming.
As I got older, painting taught me how to cope with grief, fear, anxiety and stress.
I can honestly say that allowing myself to explore painting as medicine has helped me to overcome addiction and
self-sabotage - to ultimately live a life that's Thriving.
I want to show YOU how re-connecting to your CREATIVITY can FREE your Spirit to express the Unique, Beautiful, and Talented being that you ARE!
So here's what we're going to do:
We're not going to wait another year or even
another moment.


We're not going to wait for the perfect time.


The time is NOW.
We are going to DO THIS THING
We're going to
schedule in 6 weeks.
Every week you will have
5 to 6 video lessons in your inbox.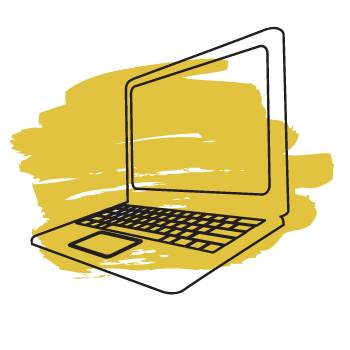 I am going to give you
step-by-step instructions and accountability.
There will be Live group Q&A calls.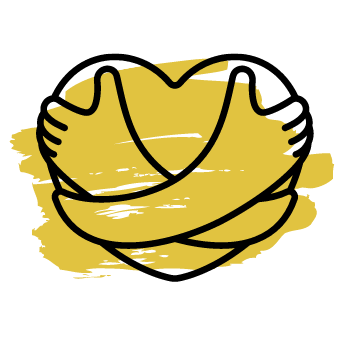 You are going to be
surrounded by a
community of other artists.
We have a private facebook group for support and encouragement.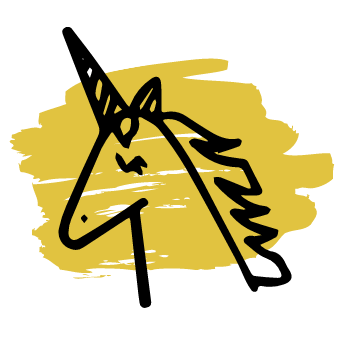 You can go at
our own pace.
You have lifetime access to all
of the course content.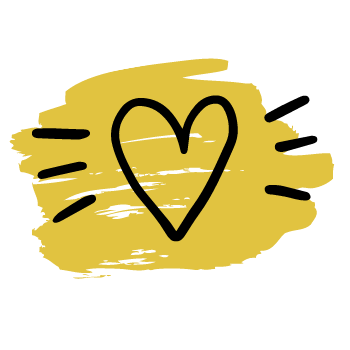 I'll teach you how to
develop your own, unique painting style.
From composition, to mark-making and
brush strokes,
you will create expressive
figures and portraits.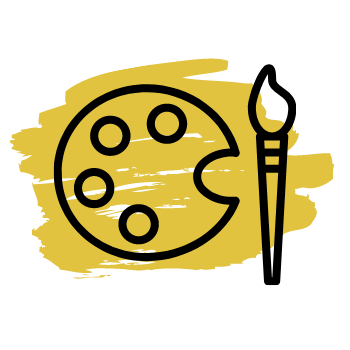 I am going to teach you how to finish your painting.
You will learn when to know that
your painting is "done",
finishing touches and applications.
And I'll teach you everything I've learned about mastering figure painting,
creating expressive portraits and
simplifying oil painting
so that you will be able to.
"Marilyn is like a veil I wear over Norma Jeane." - Marilyn Monroe
We are painting Marilyn Monroe as the subject of this course.
I have always been fascinated with her story. I find it amazing that, even though she was a sex symbol,
women as well as men have always been drawn to her.
It is clear that she continues to be a powerful symbol in her iconic fame that goes on over 50 years after her tragic death.
Marilyn Monroe's movie magic was in her ability to take her emotional interior and make it palpably visible to audiences.
And isn't this exactly what we do when we paint?


As artists (and yes Dear, you ARE an artist) we express our "inner world" on the canvas.


This is what makes each of us and
what we create, so unique.
I'll be your guide
on this painting adventure!
Why should you learn from me?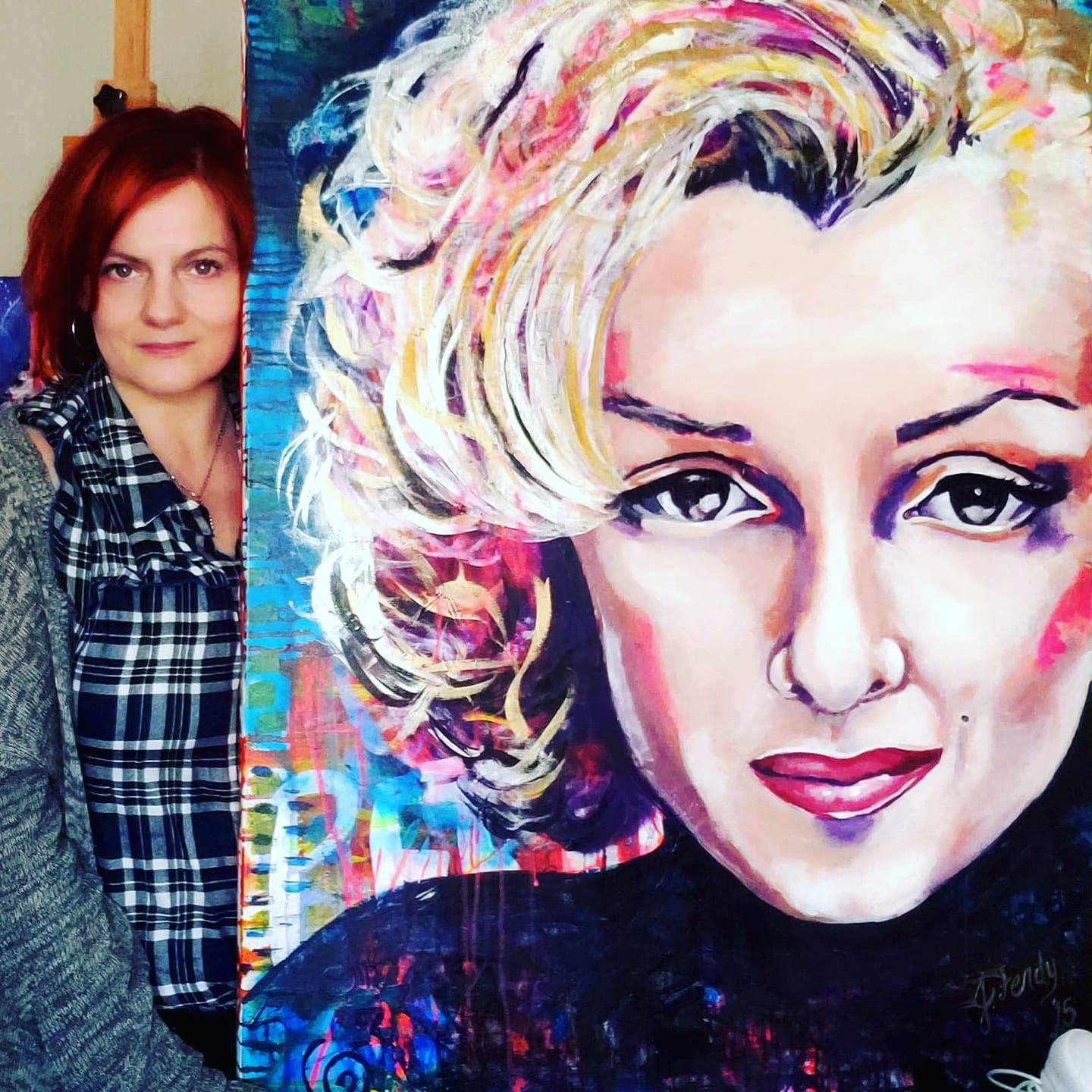 I first painted Marilyn in 2015
This was a tough year for me. I was separated from my ex-husband and navigating a scary and uncertain future.
Painting Marilyn Monroe filled me with a renewed sense of confidence and purpose.
There is a neurological response that occurs in your brain when you tap into your creative mind.
I have learned how to teach my students to access this in the 7 years that I have been leading painting workshops.

I will not leave you "floundering" on your own. Each week we will meet Live on zoom for our group call.
I show up for you 100% and bring my years of training, education, experience and trial and error to the classroom.
THIS COURSE CAME ABOUT BECAUSE MY
STUDENTS WERE ASKING FOR IT.
Since 2014 I have been teaching painting workshops.
I have continued to be amazed by what my participants can do when they are simply given permission to explore the blank canvas and play with paint.
More and more it was clear to me that the truth is
we are ALL Artists.


Fast forward to 2020 and we are in the midst of a global pandemic. When this happened I felt a tremendous calling to be of service.


I began offering my Painting, Yoga and Meditation classes online.


I learned how to use Zoom to connect with my students all over the country and we were able to use the time at home to be creative and harness that energy into our thoughts and emotions.


This gave us Peace and Joy during a time of fear and uncertainty.
This is a photo from my first Zoom Paint Party during the quarantine.
WHAT YOU WILL GET...
You will get weekly lessons and accountability
You will have support in our private Facebook group and the Live Q&A calls.
You will have lifetime access to all of the course content.
You will learn how to work with a reference photo.
You will learn how to create a multi-layered oil painting from start to finish.
You will render the figure, portrait, fabric and still-life (I will show you how).
You will learn different methods for creating accurate proportions.
You will learn how to create dynamic and pleasing compositions.
You will explore color and texture on the canvas.
You will learn how to master mark-making and brushstrokes.
You will learn how to create any painting from start to finish in simple and doable steps that lead you to a satisfying finished artwork.
You will be more confident and courageous in your painting and in your Life!
THE SUPPLY LIST IS PREVIEWABLE AND AVAILABLE FOR DOWNLOAD IN THE CURRICULUM SECTION BELOW.
During the quarantine I have immersed myself in online painting workshops as the student and I have learned and grown in so many ways. I finally got back to oil painting and realized how simple and beautiful it can be.


I want to share this with you!


As always, this course will also be FUN!
I have broken down the material in a manner which will be easy for you to fit into your schedule. I will be painting right alongside you every step of the way.


Join me for the next Live session on
December 11, 2020!


And here's what my students are saying about my courses...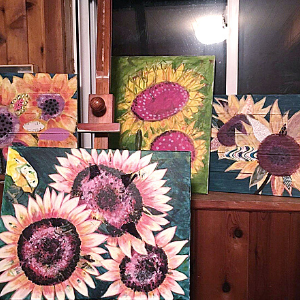 "We so enjoyed this!
We really needed this..."
"You're amazing! Thank you so very much, I can't tell you how inspiring you have been to myself and my family, it means so much!"
-Toni E.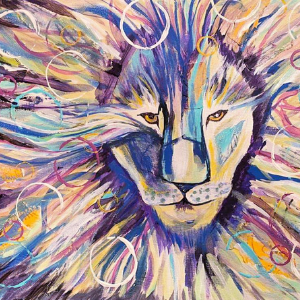 "I had the most uplifting experience,
right from home..."
"It was so wonderful to create my very own Lion painting It was an amazing time and I did this with craft paint, school glue and paper scraps I had in my home and my whole family got in on the fun!" -Heather E.
"So glad we did this class online..."
"We could go at our own pace. We took our time and we really had a nice time with it. Thank you so much, you are an amazing teacher!" -Bobbie S.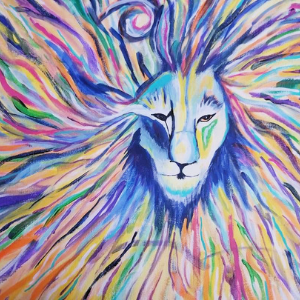 "Thank you so much. I'm so excited, I love my painting!" -Marci S.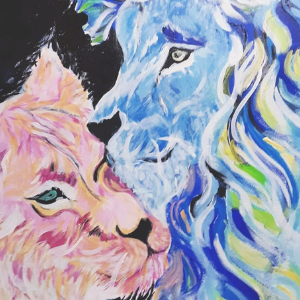 "I love your workshops, Thank you..."
"I've decided to work on my painting some more. Thank you, I can't wait for the next one!" -Stacey O.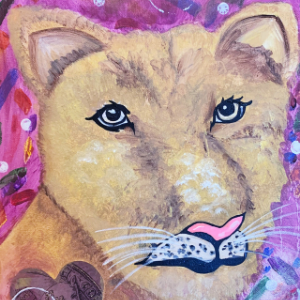 "We thoroughly enjoyed ourselves..."
"We can't wait to finish our paintings!!! You are the greatest!!!! Here is one of the finished products." -Karen O.
1 When does this course begin?
The next Live session begins on December 11, 2020 and ends on January 22, 2021. You will get 6 new lessons each week.


2 How long do I have access to this course?
You have lifetime access to all of the lessons.
3 How much time will I need for this course each week?
This course is designed to fit into your schedule. Each week's lessons will be no more than 2 hours in total. This means that you can pace yourself and paint when you have as little as 30 minutes per session. Don't worry, you have lifetime access to all of the content, you can take as much time as you need to finish. The 6 week model is designed to keep you on track. More info below...
4 Do I need painting experience?
No you do not. I have tailored the video instruction to make it easy for you to create your painting from start to finish. Even if you have never painted before.
5 Who is this course for?
Anyone who is fascinated with Marylin Monroe and wants to learn how to paint her. Beginner to advanced painters looking to learn how to work with oil paints. Artists who want to enhance their figure and portrait painting skills.
6 What supplies do I need?
2 canvases or canvas boards, brushes and oil paints. There is a more detailed supplies list below.
7 Is there a Facebook Group for this course?
Yes, join us in our private Facebook Group CREATIVELY FIT ROCKSTARS and share your experience and your progress. You will receive tremendous support and feedback! All of the content for this course will be shared in the teachable platform so joining the FB group is completely oprional.
8 Will there be a Live component to this course?
Yes, there will be weekly Zoom Q & A calls for your support. These calls will be recorded if you cannot attend live.
9 Will the techniques taught in this course work with acrylic paints?
Yes. The figure painting and portrait techniques can be applied to painting with acrylics. The overall effect will be different with different materials.
10 What is the best way for me to ask you a question?
Each lesson has a section for your comments. Feel free to ask questions there or email me at [email protected]
Available in days

days after you enroll

Painting Marilyn - A 6 week Journey in Figurative and Portrait oil painting.
Available in days

days after you enroll

Week 1 - Getting Started
Available in days

days after you enroll

Week 2 - Exploring ways to develop your oil painting
Are you feeling called to enroll in this course? What is your heart longing for?
-Do you feel drawn to being creative and exploring Figure and Portrait painting?
-Do you love Marilyn Monroe and want to feel more connected to her story?
-Have you have been feeling uninspired and you know that deep inside you have been disconnected and stuck?
-Have always wanted to paint but don't know where to begin?
-Are you are an artist looking to develop new skills and learn new techniques?
If you answered YES to any of these questions I truly hope that you will say YES to YOU and RESERVE YOUR SPACE TODAY!
TOGETHER, WE CAN CREATE CHANGE IN OUR LIVES AND IN OUR WORLD.
THE TIME IS NOW!
~NAMASTE~